The ranch offers three very distinct, beautifully decorated homes, each with its own personality and charm, as well as amazing landscaping and stunning outdoor living spaces.
CLICK ON ANY IMAGE BELOW to take a virtual tour of the property:
Where is Red Rock Ranch?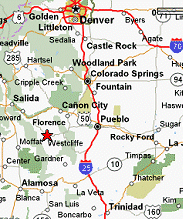 Tour the Property
RED ROCK RANCH is a beautiful ranch available to rent as a unique Colorado family reunion location, workshop retreat, or as the perfect venue for that milestone birthday gathering for you and all your friends. The ranch is located in the Wet Mountain Valley of south central Colorado. Just 2-½ hours southwest of Denver, 1 hour west of Pueblo, and an hour and 15 minutes southwest of Colorado Springs, the ranch sits at 8,400 ft above sea level in the rolling foothills of the Wet Mountains, overlooking the 14,000-foot peaks of the majestic Sangre de Cristo Mountain Range. The local community includes the towns of Westcliffe and Silver Cliff, two mining era towns that share the valley floor.
The property has three homes, connected by stone paths and landscaped grounds, and can sleep up to 40 people. Amenities on the property include saloon bar, billiards room, outdoor spa, sauna, workout room and more.
Activities on the property include horseshoes, hiking, croquet, billiards, ping-pong and a variety of games. Off-site activities include hiking, fishing, golf, whitewater rafting, antique shopping and much more. Learn more about activities both on and off site.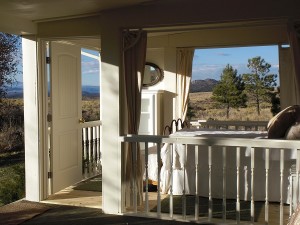 THE COTTAGE'S COTTONWOOD ROOM:
FULLY SCREENED OUTDOOR BEDROOM
ROOM FEATURES

For 18 Rooms plus Bunkhouse

High Quality Sheets, Pillows and Bedding
Firm, Comfortable Mattresses
Dresser for Clothing Storage
Hanging Clothes Storage
Mirror with Electrical Plug Access
Suitcase Rack (Most Rooms)
Opening Window, Skylight or Door*
Multi-Speed Fan
Reading Light
Multiple Outlets for Cordless Battery Charging
Hooks for Towels and/or Clothes
Beds Made with Clean Sheets Upon Check In
Clean Towels Provided at Check In
Historical or Themed Décor

* Rose Room has stationary windows

SLEEPING LOFT FEATURES

For 4 Lofts

High Quality Sheets, Pillows and Bedding
Firm but Comfortable Mattresses
Dresser for Clothing Storage*
Opening Window or Skylight
Multi-Speed Fan
Reading Light
Multiple Outlets for Cordless Battery Charging
Hooks for Towels and/or clothes
Beds Made with Clean Sheets Upon Check In
Clean Towels Provided at Check In
Historical or Themed Décor

* Bear Peak Loft has Shelving/No Dresser

EACH OF THE THREE HOUSES

ALSO FEATURES

One Ironing Board
One Iron
Vacuum Cleaner/Broom
Basic Cleaning Supplies
Washer/Dryer (Ranch House only)
Pack and Play, High Chair (Two of Each, Ranch House Only)

* Bear Peak Loft has Shelving/No Dresser
What You Get When You Rent Red Rock Ranch
When renting Red Rock Ranch you take over the property as you would any vacation rental. This includes all three houses. The property is yours for your private enjoyment during the length of your rental.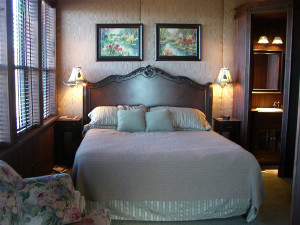 What is provided?
Basic paper supplies, bed linens, towels, soap & shampoo are provided for guests. Fully appointed kitchens in each house include dishes, glassware, flatware, cookware, utensils and some basic spices.
Cooking (or see Catering below)
There are three completely appointed kitchens on the property. Each is equipped with state of the art appliances including Garland, Viking and Gaggenau.
There is no better way to enjoy a group gathering than to get in the kitchen with a glass of wine, a few of your friends, family members, or co-workers and prepare a meal. You can bring groceries from home, or shop at Westcliffe Super Market, just 10 minutes from the ranch. Westcliffe also has a small natural foods store, where you can find seasonal organic produce and many other natural products.
Catering
The Wet Mountain Valley is the home of several superb catering companies and independent gourmet chefs. Put you feet up and enjoy someone else preparing your meals for you. Have your meals delivered or prepared right in your own kitchen. A list of caterers and menu options from each company are available upon request.
Amenities
Three Fully Appointed Homes – 80 Yards Apart – All with Indoor Stereo
State of the Art Kitchens – Viking, Gaggenau, Garland Appliances
Wireless Internet Access (Cottage "Unplugged" / Designed with no Phone or Wireless)
Swimming Pool and Sun Deck – Pool Size: 14 X 28 – Deck Size: 550 Square Feet
Barbeque Picnic Area Adjacent to Pool – Picnic Benches/BBQ/Cold Drink Storage
Outdoor covered pavilion – 16 foot x 26 foot multi-use covered patio. Great for dancing, outdoor movies or other special gatherings.
BBQ /Outdoor sink and counter with Refrigerator
Outdoor Jacuzzi – Six Person Spa with Large Deck Area
Volleyball Court – Regulation 30 X 60 Sized Court
Campfire Circle – Large Cast Iron Fire Bowl with Log Benches
Large Furnished Outdoor Spaces – Decks/Porches and Patios
Two Outdoor Fireplaces – Cottage Porch/ Sunset Terrace adjacent to Ranch House
Gym – Features Treadmill, Lifecycle, Life Step, Barbell, and Dumbells
Sauna – Wet or Dry Sauna – Accomodates up to Six people
Horseshoe Pits – Regulation Sized for Tournaments
Billiard Table – Tavern Size
Ping Pong Table
Lawn Games – Badminton, Croquet, Frisbee, Jai Lai
Water Features Areas – Relaxing and Soothing Meditation Spaces
Mountain Bike/Hiking/Walking Trails – Low Traffic, Hard Packed Dirt County Road Network Extends from the Edge of the Driveway, more than 100 Miles in Total
Old West Saloon Bar – 22 Foot Long Bar with Saloon Style Back Bar
Widescreen Television – 60" with Direct TV Network and 400 Channels
Video Library – Hundreds of Movie Titles
Board Games – All Your Favorites + Poker Chips and Cards.
Book Library – For Reading Enjoyment While on the Property
Audio Library – Audio Books and Learning Series
Five Bed Bunkhouse – Great for Kids and Teenagers
Washer Dryer – Located Onsite
Excellent for Family Retreats and Friendly Gatherings
Imagine hanging out with friends and family, cooking meals, playing games in front of the fire, drinking wine in the outdoor spa on a starry night. Play a game of horseshoes or get a game of croquet going on one of the 3 beautifully manicured lawns. Red Rock Ranch is the perfect venue for a family reunion, birthday celebration, holiday get-away or any group gathering that requires a dynamic venue.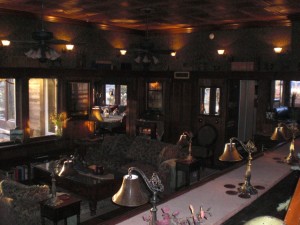 THE SALOON/GREAT ROOM OPENS UP TO THE
DINING ROOM AND BREAKFAST ROOM/KITCHEN TO
ALLOW DIFFERENT GROUPS TO VISIT WHILE
STAYING IN CLOSE PROXIMITY TO EACH OTHER
Create Your Own Experience at Red Rock Ranch
Visit Trip Planning to see what the area has to offer.