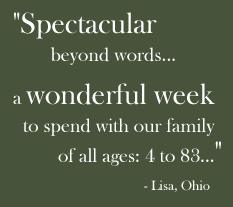 This private Colorado family reunion location offers dramatic mountain views in all directions of the Sangre de Cristo, Collegiate and Wet mountain ranges. The property is located in Westcliffe, Colorado just an hour and fifteen minutes from the Colorado Springs Airport and just two and a half hours from Denver International Airport.
The three homes are situated 80 yards apart making this a perfect Colorado family reunion location. Privacy and seclusion is an option, but not a necessity because of this easy proximity. All connected by lighted stone paths through landscaped grounds for easy access.
This versatile Colorado group vacation rental can accommodate groups of between 20 to 40 people. By accommodating two people per room, and utilizing the bunkhouse, a 40 person group is an easy and comfortable group. Or for reunions requiring private accommodations for each person, the property can accommodate up to 20 people.
The Dining Experience
Creating meals from favorite recipes in three different state of the art kitchens is half the fun! Designate different cooking teams for different meals in each of the different kitchens. Each house can accommodate your entire group for an outdoor meal gathering.
A BBQ feast is a must in any of three outdoor areas designed to accommodate your entire group, allowing you multiple outdoor living and dining space options to vary the ambience and atmosphere of dining gatherings for your group.
Many catering options are available for those activity-filled days, when you may not want to play in the kitchen. Depending on the caterer you choose, you can design anything from a single meal set up for you in the main kitchen, to personal chefs that can cook three meals a day on site, while you relax and enjoy being served!
Shake things up and dine one evening in one of the local restaurants, a list with names and a brief description of each eatery is included on the Trip Planning pages of this website.
Onsite Entertainment and Recreation
The property has been designed so you never have to leave to find maximum entertainment and recreation value……..browse this list and you will see why this group vacation rental destination can be your final destination!
Three Fully Appointed Homes – 80 Yards Apart – All with Indoor /Outdoor Stereo
State of the Art Kitchens – Viking, Gaggenau, Garland Appliances
Wireless Internet Access (Cottage "Unplugged" / Designed with no Phone or Wireless)
Swimming Pool and Sun Deck – Pool Size: 14 X 28 – Deck Size: 550 Square Feet
Barbeque Picnic Area Adjacent to Pool – Picnic Benches/BBQ/Cold Drink Storage
Outdoor covered pavilion – 16 foot x 26 foot multi-use covered patio. Great for dancing, outdoor movies or other special gatherings.
BBQ /Outdoor sink and counter with Refrigerator
Outdoor Jacuzzi – Six Person Spa with Large Deck Area
Volleyball Court – Regulation 30 X 60 Sized Court
Campfire Circle – Large Cast Iron Fire Bowl with Log Benches
Large Furnished Outdoor Spaces – Decks/Porches and Patios
Two Outdoor Fireplaces – Cottage Porch/ Sunset Terrace adjacent to Ranch House
Gym – Features Treadmill, Lifecycle, Life Step, Barbell, and Dumbells
Sauna – Wet or Dry Sauna – Accomodates up to Six people
Onsite Massage Available – See Trip Planning Page for Information
Horseshoe Pits – Regulation Sized for Tournaments
Billiard Table – Tavern Size
Ping Pong Table
Lawn Games – Badminton, Croquet, Frisbee, Jai Lai
Water Features Areas – Relaxing and Soothing Meditation Spaces
Mountain Bike/Hiking/Walking Trails – Low Traffic, Hard Packed Dirt County Road Network Extends from the Edge of the Driveway, more than 100 Miles in Total
Old West Saloon Bar – 22 Foot Long Bar with Saloon Style Back Bar
Widescreen Television – 60" with Direct TV Network and 400 Channels
Video Library – Hundreds of Movie Titles
Board Games – All Your Favorites + Poker Chips and Cards.
Book Library – For Reading Enjoyment While on the Property
Audio Library – Audio Books and Learning Series
Five Bed Bunkhouse – Great for Kids and Teenagers
Washer Dryer – Located Onsite
Local Adventures and Activities
Visit our Trip Planning page for information on The Local Exploration Experience.
Take a Virtual Tour of the Property
Create a Spa Experience
Utilize one of the local massage therapists available to set up a table in one of the rooms, bring in an esthetician to do facials and manicures, and create a sign up sheet for your guests. In conjunction with the sauna, Jacuzzi and swimming pool, you will feel like you have a private spa at home!